When I started podcasting in February of 2015, I did it to get more visibility. To grow my brand. In modern times, expert branding has become an essential tool that can be the catalyst for growth. It is the reason that things like personalised umbrellas are so important. Podcasts can help contribute to growth too. Whatever your reasons are for wanting to start a podcast, just use that as motivation and go with it. The only reason I feel like it took me longer than I expected to start this was because I was having trouble with my laptop, especially when it came to the audio. Then one day, I thought if I don't get this resolved, I won't move forward with growing my brand. So I took it upon myself to look into an audio manager online, which guided me step by step on how to solve this problem. After I got this sorted, I knew I was good to go ahead and start this new project.
I looked around and saw lots of places to garner quality marketing attention, but they all cost a lot of money. I was still grinding and bootstrapping so I thought, "Why don't I create my own marketing platform?"
So I did.
First, with my Live to Grind podcast, then with Keys to the Crowd podcast, and now with my Ambitious Adventures podcast and a reality T.V. show (with the same name).
I've now published over 300 podcast episodes! And I've been interviewed on over 150 by now! So, I thought it time to share a few ways that podcasting has helped grow my business and brand. [If you want more ways that I recommend, get my Top 10 Ways to Build Your B.R.A.N.D. tips free now!]
Surprisingly, podcasting has helped me grow in many ways I did not even anticipate when I started!
These are such great results, you may be wanting to start your own show soon! Starting up a podcast of your own to promote your brand is simple, as long as you know what you're doing. There are many steps involved in engaging followers, as well as the technical side involved in producing and distributing podcasts. Companies like Lower Street can help you in starting up your podcast and guiding you through the complex technical steps. Get promoting!
1. Expand Your Network of Influence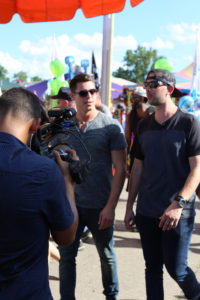 When I first started podcasting, I thought about creating content and establishing myself as a leader in crowdfunding, business, and motivational speaking. Which I did.
But what I did not realize at first, was that my network quickly grew as a result of podcasting. With the help of technology, I believe that anything is possible. From companies such as Just Deliver It offering solutions to reach a larger audience, to restaurants implementing the use of POS systems, technology only seems to be creative a positive impact on businesses so far. It is worth using the tools that are available to you, as it can benefit you in ways you may not have considered.
I would interview a friend or acquaintance and then close the conversation with, "Thanks for a great interview. My audience will really benefit from what you shared. Know anyone else who would like to share their message with young, ambitious entrepreneurs?"
The guest would say 'yes' and then give me a warm introduction to someone else.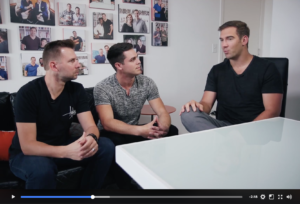 Soon, I was in contact with influencers I never would have otherwise gotten access to.
And I later created a T.V. show called Ambitious Adventures where I got to interview even more influencers like Lewis Howes, Jake Paul, and Emmy Award-winner Nick Nanton!
You are the average of those you spend the most time with.
So, increase your average with podcasting.
[And if you want to go even further and mastermind with me, check out my 30-Day Accelerator and 12-Month Ultimate Mastermind. Application required.]
2. Get Free Media Coverage
Louis Foreman came on the podcast a while back, and we talked about his product design and engineering firm Enventys, his Emmy Award Winning TV Show, licensing, and more.
At the end of the podcast interview, because I had done him a favor by getting him in front of my growing audience, he mentioned that he had a magazine.
I went on to be featured on the cover of Inventors Digest, a 32-year old publication devoted to the topic of American innovation.
Wow!
That cost me $0 but was worth an untold amount of marketing dollars for the credibility and exposure it has brought me.
3. Help You Write Better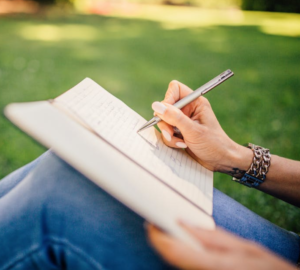 Admittedly, I am not the best writer. It takes effort for me
But I love speaking […which wasn't always the case, by the way! I had a lisp as a kid. Push through obstacles!]
And speaking all the time about the topics in my industry by hosting a podcast has helped me get clarity of thought and develop new, creative ideas that have also improved my writing.
And get this!
Last week I drove from Iowa to Florida and recorded audio, which I will have transcribed for my book. I now already have 6 chapters for my next book! And the audio can be run as podcast episodes too.
You can transcribe your podcasts and repurpose them for blog articles, books, and other content.
It's far easier to edit what is already there than to come up with something fresh while staring at a blank computer screen.

4. Get Free Advice from Legends
Having guests on your podcast is a sneaky way of getting free, targeted advice on anything you want to know!
You have total control of the questions you ask and without the platform of a podcast, there would be no way that some of the guests I have had the honor of speaking with would want to sit down and "chat" so that I could "pick their brain."
High-profile leaders do not have time to waste.
So, under the umbrella of a podcast, I am able to talk with people like Joel Brown, Forbes Riley, Kevin Harrington, Ryan Stewart, Jake Paul, Jay Baer, Caleb Maddix, and more.
I build relationships with them and get free advice most people would kill to get.
You can too if you start a podcast. Convinced yet?
[Want targeted advice from me? Check out my wildly popular 30-Day Accelerator and 12-Month Ultimate Mastermind. Application required.]
5. Set-up Actual Business Deals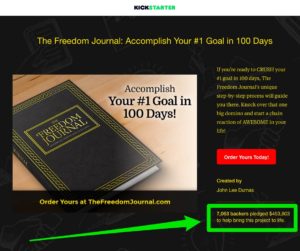 I somehow was able to get John Lee Dumas on my podcast.
At the end of the interview, I shared the ways that I can help people, and it turned out that he was actually looking for help with crowdfunding. He wanted to launch his Freedom Journal using Kickstarter.
As a result of our conversation after the podcast interview, I ended up managing his campaign, and together we raised almost $500,000 — the 6th largest crowdfunding campaign EVER for a book.
Now we are working to launch another campaign for the Mastery Journal.
Conclusion
Podcasting has been a game-changer for me and my business. And it can work for yours too.
And no excuses either! My setup when I got started cost me less than $100.
If you are ready to get off to the best start possible and start reaping the 5 unexpected rewards and more, then get started! Hope to see you there and on the air waves!
BUT WAIT…
Starting a podcast is just one of the ways you can grow your brand and your business. Want more of my best advice?
Here are my TOP 10 Ways to Build Your B.R.A.N.D.! Grab it free by clicking below.