Consistency and hard work can help you build a following and receive mind-blowing opportunities that you'd never imagine.
These achievements won't just appear out of thin air. You have to get out there and do the things that other people aren't willing to do.
It's been almost three years since I started my podcast show, University of Young Entrepreneurs. When I first started out, I didn't know anything about podcasting.
I started studying and listening to Tim Ferris, Lewis Howes, and John Lee Dumas, and took notice of the things that they did.
What were they doing differently?
How did they monetize their podcast? How did they have success? How do you even start a podcast? What kind of equipment should you use? The questions went on and on.
When it came to the technical stuff I was pretty clueless, but I was still very determined to learn.
I knew that I wanted to build a community and help more people.
So, I went out and got myself the microphones, software for PC and any other equipment I needed to get started. One of my friends is a music producer so gave me some handy tips about the best audio recording software to use. My first episode was in February of 2015, and I literally spent the whole day doing one show.
I did about five different takes when recording the show because nothing was coming out how I wanted it to. I'll admit, I did everything wrong and felt pretty frustrated. But, after doing something enough you can get into a rhythm.
I think John Lee Dumas said it wasn't until 100 podcast episodes that he actually found his voice in his show.
You just have to stick with it and you'll learn and improve as you go.
I have seen first hand the power of podcasting and doing something on a regular basis. It's all about creating a lot of high-quality content and putting it out there consistently.
Most people do something for a few months and when they see that they're not getting any traction they get fed up and quit. But, if you stick with whatever it is you set out to do, good things will happen and plenty of opportunities will come your way.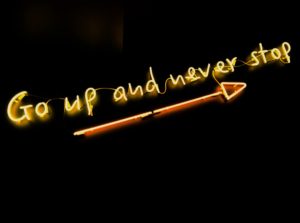 Do things that most people aren't willing to do and stand out in the crowd.
What I did to stand out when I first started my podcast show was I traveled to the person I was interviewing. I drove all over the country to meet with people in person and have face-to-face conversations with them.
Within eight weeks of starting my show, we were named the Top 50 Most Influential New Business Podcasts on iTunes. That was the first success I saw, and when I realized the power of success that comes from consistency, grinding, and the willingness to be different.
I started to build a community and create a following.
If you stand by your vision while continuously providing value to others, good things are bound to happen for you.
Don't be surprised if big things come your way when you least expect them to. I look at where I am right now, and I did not see all of these things happening. It still blows my mind.
Here's what I'm getting at. I started out with a podcast almost three years ago – I was consistent, I worked my ass off, and I've done some crazy shit.
I've pushed myself outside of my comfort zone, slept in my truck countless nights, and grinded again and again.
When you stay consistent with your work and you keep at it with your goals and vision, you're going to achieve all of those things. And then some. People are going to be attracted to you and opportunities will start to fall into your lap.
But, you have to go out there and get it.
Whether you want to start a podcast, write a book, start a business, or be the best athlete… laser focus and GRIND.
The people that are following me on this journey have helped me build all of this from the ground up. It all started with what we've created together.
I said in the beginning, we are going to create something great and become unforgettable because life is too short not to. And we did just that.
We've created the foundation for a movement and something that is going to reach a lot of people.
You can do the same in your life, you just have to start and then keep going.
Whatever it is that you're doing, try to become the best at it, do whatever it takes, and always do what you love.
There are millionaires and even billionaires out there that are unhappy. It's not all about the money, it's about the great things you create and the impact you make on others.
Now THAT'S how you build a following and create a movement. That's how you change the world.
BTA