How often do you challenge yourself to do the things you consider "unthinkable?"
It can be extremely rewarding to push yourself past limitations, and you might be surprised with what you're actually able to accomplish.
Don't create a habit of sitting on projects for too long. Chances are, the longer you wait to share something, the less likely you are to end up putting it out there.
Why would anyone want to invest all that time into something that never gets released? If you're providing serious value, then what you're creating is worth sharing. The easiest thing to share (and sell) right now is your knowledge.
Creating an online course is a way for you to package your passion and expertise and sell it to an audience. eLearning is worth 200 billion per year, so there's never been a better time to create an online course to educate others.
Providing a learning platform through your business can help you develop a recurring income and build brand authority in your field. Creating your own course might sound intimidating and like a lot of work, but it's actually pretty simple.The first basic step to take is getting a fast Internet connection that you can depend on. You could reach out to a local service provider, or, if you want to look for other providers, research htc packages or the various available plans. As you'll be doing a lot of browsing, recording, and uploading during the time you create your course, it's important that you remain connected to the Internet. It's nothing to worry about, though. You can get this over with pretty quickly, and then begins the real adventure.
A few months ago I pushed myself to create my course, Idea to Revenue in 30 Days, in one single afternoon.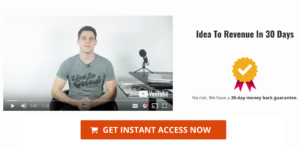 My objective wasn't to create something perfect; it was to create something FULL of value that could help others.
I set out to create a course targeting people interested in becoming an entrepreneur and making money online.
My goal was to create this course in just four hours. Challenge accepted!
Since the actual pre-planning stages of creating a course can take some time, it's important to be clear about your target audience and training goals. Solid framework will make the rest of the course creating process easy.
Brainstorm and structure a list of the main topics you plan to cover

Use a website maker to create a modern website that will impress clients.

Create a Facebook ad video and landing page video to promote the course online

Next, create an intro video explaining what will be taught in the course

Break your content into sections. It's best to keep each section of your course between 4-10 minutes long since smaller chunks of information are easier for an audience to consume
It took me a little over four hours to create all of my videos, get them uploaded, and bring the concept of the course together as a whole. But, even with going slightly over my goal time, I couldn't help but feel extremely accomplished.
Developing a course is not only a learning experience for your audience but also for you as the creator.
You will learn what works for you and what doesn't, and the process will be even easier for you the next time around.
There are so many opportunities out there for you to share your knowledge with the world. Don't waste time trying to create the "perfect" course – just get started! Set big goals, challenge yourself, and see what you can get done in a short period of time.
BTA