Story:
Exclusive behind-the-scenes stories and sneak peeks for the Think and Grow Rich movie debuting October 14th in L.A.!
The four executive producers share how much strength and courage it took to complete the film. No matter the obstacles faced, they never gave up and continue to live by the principles of Think and Grow Rich.
Have you read the book? Has it changed your life too? I'd love to hear about it!
Listen to this episode and then hit me up on Facebook!
Get Your Tickets To The Premiere!
Saturday, October 14, 2017
Regal L.A. LIVE: A Barco Innovation Center
A few highlights from this interview include:
– How the Think and Grow Rich film all started.
– How much Think and Grow Rich has changed people's lives…from the Executive Producers to Brandon, to millions of people around the globe, and likely YOU!
– Lessons to be learned from the mindset and strength to create this film.
– How to use the principles of Think and Grow Rich throughout your journey!
– The team shares some memorable moments while filming.
– This movie is unlike anything you've seen! Hear why it'll blow you away!
BONUS: Watch Our Filming This Episode!
Brandon is letting you in behind the scenes!…
Guests: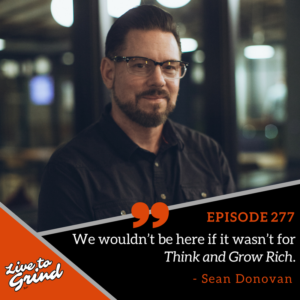 Sean Donovan: Producer/CEO
Sean is the CEO of Think Rich Films and has worked with television giants such as CNN, NBA, Nascar, TNT, TBS, Cartoon Network and PGA. As a veteran Branding and Digital Marketing expert, Sean has worked as a high-level strategist with some of the top New Media Marketing Firms in the world. As an adviser on Co-founders Lab Sean has worked with over 200 companies to assist them in fast tracking their success.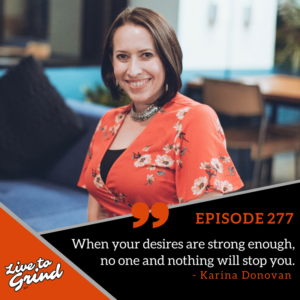 Karina R. Donovan: Co-Producer/COO
Karina is the COO of Think Rich Films, managing all day to day operations for the company and overseeing all aspects of production. A veteran digital and social media marketer, and business development strategist. Karina is a huge advocate of financial literacy and has mentored youth for over a decade. Her areas of intimate expertise include personal development, life coaching, media production and broadcasting.    


Joel Franco: Co-Producer/Business Affairs
Joel heads our production's business development and supports the creative direction and production of the film. Joel has created synergetic alliances with multiple Fortune 500 companies. Within the last decade, he's had the privilege of working with some of the top world leaders and influencers in business, social change, and entrepreneurship.

James Whittaker: Co-Executive Producer
James Whittaker was born in Brisbane, Australia and currently resides in Venice, California. After a successful career in the financial services industry, he shifted focus to the health and fitness industry where he draws on his diverse experience to help people reach their potential in all areas of their lives.
Impactful Quotes
"Just keep going." – Brandon T. Adams

"We were funding and filming." – Sean Donovan

"We wouldn't be here if it wasn't for

Think and Grow Rich

." – Sean Donovan

"If you really have achieved all your goals, then something is wrong because you ultimately always have to have continuous goals. There always have to be the next step." – Joel Franco

"What we are trying to do with this project his help the delivery method of a book that came out 80 years ago." – James Whittaker

"When your desires are strong enough, no one and nothing will stop you." – Karina Donovan

"The film, the book, the events, everything that we are putting together — what makes it so great is that not only is the information there but the inspiration [is too]." – Joel Franco

"Anybody and everybody, at any given moment, can achieve anything they want." – Joel Franco

"We've all experienced this first hand, the power of this book and what these principles can do in every part of your life. Don't be fooled by the title that it's only financial means." – James Whittaker
Mentions in the Podcast Episode

Take Action!
Connect with The Legacy Team!