Brandon here…with a media opp for you!
I just got back to Orlando (where I live) from a 48-hour trip to Iowa (where I'm from) to line up more sponsors for the Young Entrepreneur Convention happening in April…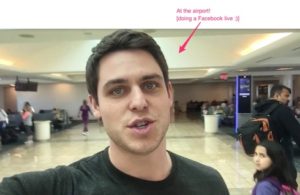 Man, was it cold!
Who of you are facing cold temps right now? 
But anyhoo…
As I sat in the plane back to warmer weather and Disney theme parks…
I got to thinking about how crazy (in a good way) life has been these past just 27 years…
Most people wouldn't believe that a farm boy from Iowa would have a TV show premiere next week!
(The red carpet event is on 2/2 if you are in the Orlando area!)
Plus multiple successful companies.
And been named "financial advisor" to a film that will dwarf The Secret in reach when it comes out.
But why am I telling you all this?…
Well, the biggest lesson that I have learned in adding all these to my 'entrepreneurial resume' is that so much of it came as a result of my being visible!
My seeking out media coverage.
My voicing my thoughts and sharing my knowledge in video, audio, text, and more.
It's made me be seen as an influencer. 
[It's just human psychology…whoever is most seen, reaps great rewards. As also proven with our most recent election… but we won't get into that!] 🙂 haha
A pivotal example for me was when I was featured on the cover of Inventors Digest: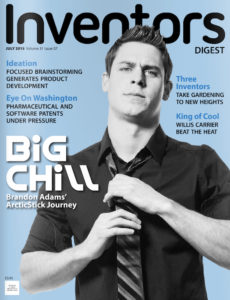 Okay… so, this has all lead me to this point…Now I want to not just BE featured, but CREATE the media to feature others!** It's a step up for me, and an opportunity for you. **So, I'm pleased to announce…Accelerant Magazine! We are going to print with the first issue later next month, to release at the end of February / early March!Here's a little promo image below: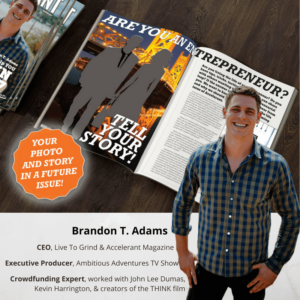 Here's the media opp. I promised!
My lead editor has given me until Tuesday 1/31 to get submissions from entrepreneurs in my network to be featured in the first issue. 
We have a few ideas up our sleeves!
[And when you hear who will be on the cover…
you will DEFINITELY want your name next to these internationally known stars!]
For one, we want to shine light on: "10 Entrepreneurs to Watch in 2017"!
Are you one of them?
Do you want your name in print to add to your entrepreneurial resume?
If "hell, yes!" —  I invite you to fill out a short form here:
www.LiveToGrind.com/magazine
And my team and I will be reviewing every one of them!
Feel free to share with others also deserving. We want the best of the best!
I look forward to hearing more about your journey and shining some well-deserved light on it… as I also grow this next tool in my own arsenal as a magazine publisher!
See you over there,
BTA
P.S. – Make sure to get your 300-words-or-less story in by 1/31! Get featured: www.LiveToGrind.com/magazine
WANT EVEN MORE?