YouTube Confession
I'll admit it: I talk a big game. 
And I'm proud of thinking BIG and working hard!
But…
I'll be the first to admit that I don't have EVERYTHING figured out and perfect…yet. 😉 
So, I'll be vulnerable and honest with you…my YouTube game is NOT on point.
We recently had a guy apply for our Ultimate Mastermind (which kicks off to a new level with an in-person mixer event TONIGHT in Orlando at 6:30pm EST — right about nooooow!) who thoroughly checked out all my social media assets before applying.
He ended up not joining the group because it wasn't the right timing for him. We'll see him in 2018!
But one thing he asked about was my YouTube channel. 
I had to be straight up and like, "I haven't focused on it."
And we just started up a new one for Live to Grind. There's admittedly nothing much up on there yet. Like, at all.
You know what?…
Even as ambitious as I am and as amazing as my team is, we can't be everything to everyone on every platform…yet. We're getting there.
Baby steps. Add them up and it's giant leaps over time!
Photo: Shows it is Ground 0, for sure!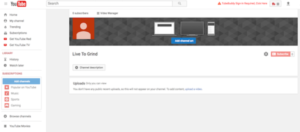 Simple 7-Day Challenge!!!
Okay, to get better at YouTube, I thought why not make it a fun challenge that we all can participate in?!
Here is your mission…if you decide to accept it…
STEP 1:
– Go to YouTube.
– Search for a tutorial on SOMETHING to help you do better in YouTube (descriptions, tags, custom thumbnails, advertising, annotations, anything!)
STEP 2:
– Watch just one video (length: will vary)
STEP 3:
– Head back to the Live to Grind Community Facebook Group (if you haven't joined, we'll approve you!)
– Find the post that has the same image as below
– Comment in the post's threads with 2 things
….1: URL of the video you watched
….2: One new thing you learned!
Super simple!
This challenge could take anywhere from 7 minutes to a couple of hours depending on how long your video is.
DEADLINE: Thursday at midnight EST 6/29!
But, the great thing is…
All of us who comment in the thread will get to see the videos that helped others and learn one key takeaway from each comment too!
My goal with this is for us all to stop waiting and start SMALL with improving with YouTube.
Baby steps, remember?
See you on Facebook soon! You have until Thursday at midnight! Go! 🙂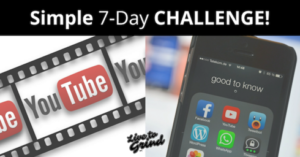 See you on FB for the challenge and…
Thanks for reading the Friday Funday. I truly hope you get value from this weekly digest of some big highlights from my "Live to Grind" world! 🙂
My goal is to impact 1 BILLION lives in a positive way by 2019 and to help 100 entrepreneurs hit their 6 or 7 figure goals this year alone.
I can't do that by staying quiet…
I have to share, educate, inspire, and assist.
Please let me know what you find valuable so I can do more of it.
Happy Friday!
BTA
PS: Join in on the YouTube baby step learning fun on Facebook here.
WANT EVEN MORE?