Social Media Day is Today
As I learned from Joel Comm when I interviewed him on the Live to Grind podcast, today is Social Media Day!
I almost flew out to Denver to join Joel for the event there!
But, I'm in Iowa this week scouting venues for YEC 2018!
Luckily to share with you, though, Laura Petersen from our team is representing at the event in San Diego.
Search #SMdaySD for photos of her, one of our mastermind participants Melissa Sue Tucker, and amazing people like Pat Flynn learning lots and networking with other great entrepreneurs.
That's what it's all about!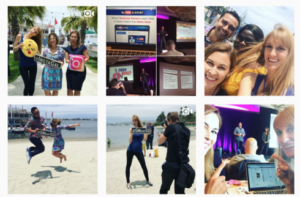 2 Takeaways for You & Your Business
Assuming you couldn't make it to one of these events either, I asked Laura and Melissa for 2 core takeaways.
They shared that there was TONS of GREAT info on YouTube, Instagram, Facebook, and more. Business owners who use social media are always looking for a way to help them grow their audience. Social Media marketing and management companies similar to SidesMedia are always helpful for companies that can expand their social media presence. One of the fastest-growing areas of social media marketing that businesses are rapidly adopting is the use of social media influencers – this gives businesses a wider audience to which they can promote their brands and products online.
But 2 things that stood out the most came from Social Media Examiner & Social Media Marketing World founder Michael Stelzner… about Facebook.
Wanted to share!
1. "Frequency is not the answer."

Because of the Facebook algorithm, just posting more stuff does not make it effective. It does not make Facebook want to reward you. Facebook sees it more like spam.
So, instead of posting 8 times a day, post 2 times a day and make them GOOD. Make them share worthy! Be it by opting for cheap Tiktok followers, or for Facebook followers, or so on, make sure that anyone following wants to see your content and wants to share your content, rather than be flooded by it.
2. "REFOCUS on community development and stop worrying about the big numbers."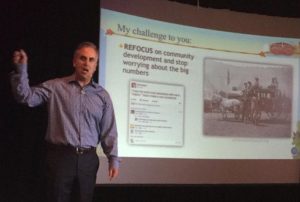 You don't need a million followers to have a thriving, amazing business.
So, stop stressing about numbers (like Facebook likes/fans) and focus on building COMMUNITY.
The right numbers will follow. Of course, you should try and set a goal to expand your following by a certain amount each day. It doesn't have to be big numbers, just something to show you that you're heading in the right direction.
Posting more content with relevant hashtags, engaging more with your current followers, or looking into growth services like Nitreo, (https://nitreo.com) are all methods that businesses can implement to make sure that they gain more followers in the long run, as well as keeping the ones you already have.
Speaking of community, we'd LOVE you to join our private, free group on Facebook called the Live To Grind Community. Come on bye and say 'hello'!
Sending you some social love!
Thanks for reading the Friday Funday. I truly hope you get value from this weekly digest of some big highlights from my "Live to Grind" world! 🙂
My goal is to impact 1 BILLION lives in a positive way by 2019 and to help 100 entrepreneurs hit their 6 or 7 figure goals this year alone.
I can't do that by staying quiet…
I have to share, educate, inspire, and assist.
Please let me know what you find valuable so I can do more of it.
Happy Friday!
BTA
PS: Join me for fun and community on Facebook here.
WANT EVEN MORE?