Why I'm So Proud of Bernard
It's finally live!
Bernard Paraiso launched his podcast Views From 3B this week. So, he deserves a first-class shout out!
It's a deep dive into insights, tools, and stories from first-class entrepreneurs, artists, and philanthropists.
The honor was all mine to be the first featured guest in both Episode 001 and Episode 002! Check it out on iTunes and leave Bernard a kind review!
Why am I so especially proud of Bernard, you may wonder?
A few reasons…
1. He's in our Elite 6-Month Mastermind, so I KNOW how hard he's grinding to make his dreams come true and retire his mom.
2. I know the details of his journey — a journey that was INSPIRED by my very own podcast over a year ago.
3. Bernard applied, to the letter, the advice that I preach…and look where he is now!
Bernard's Path…
At our in-person mastermind event in Orlando a couple of months ago, Bernard had the entire room riveted by his story.
He shared how he and his girlfriend were literally down to their LAST few dollars. 
They were broke.
But not broken! They refused to give up and throw in the towel.
Bernard discovered my podcast and had binge-listened to a bunch of episodes. From that he learned I would be in San Diego for the launch party of John Lee Dumas's Freedom Journal.
He had no idea how, but he was determined to meet me.
[We had never met before!]
So, he Googled "Brandon T. Adams and John Lee Dumas" to find information on the small event and bought two tickets with his last few dollars.
Then, he and his girlfriend took a chance and drove down from Orange County to San Diego to enter a room full of strangers with the hopes of meeting me and increasing their network connections.
Did it pay off?
Well, right away he bumped into Kate Erickson, JLD's girlfriend and partner in crime at EOFire. She introduce him to John, then met me (!!!), and many other influencers.
…By listening to the podcast…
…Taking action…
…Being bold…
…Taking a risk with his last few dollars…
…And putting himself in the position to succeed…
That was the day things started to turn around and put him on the incredible path that he's on today.
Lessons YOU Can Apply 
So, what can we all learn from this story?
THINGS THAT I DID RIGHT:
1. I created a podcast long before I knew what could come of it. Even though I wasn't 100% ready, I took action. Now, with over 250 episodes, it is an INCREDIBLE tool to build rapport with a growing audience…people like Bernard.
The Power of Podcasting
2. I went on other podcasts to get myself and my story in front of new audiences. This helped my show and business grow, while also networking with influencers and improving my speaking.
The Power of Marketing
THINGS THAT BERNARD DID RIGHT:
1. He sought out new information and knowledge from people a few steps ahead of him (like JLD and me) through our podcasts.
The Power of Continued Learning
2. He reached out to me via email before attending the launch party, so he already had started to build some rapport with me online. That made our meeting in person even more effective for him. I saw he was an action taker!
The Power of Reach Outs
3. He kept investing in himself and his business and he grew. Bernard was a participant in one of my first Accelerators and now is in the Elite Mastermind. He knows the value of being around others who will push, encourage, and collaborate with you to reach new heights.
The Power of the Mastermind
4. He came full circle and now — this week — has launched his very own podcast featuring incredible entrepreneurs and passing on learnings to others.
The Power of Content Creation
Bravo, Bernard!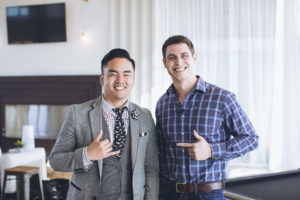 Keep Rockin' It!
Thanks for reading the Friday Funday. I truly hope you get value from this weekly digest of some big highlights from my "Live to Grind" world! 🙂
My goal is to impact 1 BILLION lives in a positive way by 2019 and to help 100 entrepreneurs hit their 6 or 7 figure goals this year alone.
I can't do that by staying quiet…I have to share, educate, inspire, and assist.
Please let me know what you find valuable so I can do more of it.
Happy Friday!
BTA
PS: Ask me more about the B.R.A.N.D. framework on Facebook here!
WANT EVEN MORE?