Do You Know "Cactus Jack"?
In last week's Friday Funday newsletter we talked about how Kevin Harrington got on Shark Tank…as a shark.
What about going on Shark Tank as an entrepreneur looking to pitch?
I want to tell you today about one such person and how he's impacted me in my journey…
His name is Cactus Jack Barringer.
Dubbed "Cactus" Jack by his father as a precocious five-year-old, Jack has a personality that electrifies a room and he loves the saying:
"It's not done until it's overdone."
He's an entrepreneur, inventor, salesman, and CEO at Cactus Jack's Marketing, a product sourcing and promotion firm based in Ames, Iowa.
I'm in Iowa this week and got to meet up with my long-time friend and mentor!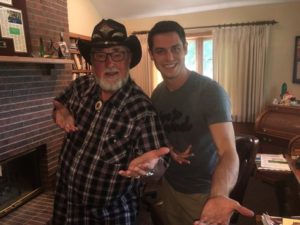 If you've ever had the pleasure of seeing Cactus Jack in action — like on Shark Tank — you'd say he's a mix of PT Barnum, Roy Rogers, and Grizzly Adams!
He's spent a lifetime taking the road less traveled and applies that mindset to his brand.
But this road doesn't have to be one of obscurity…. Jack has generated millions of dollars in sales for products featured on home shopping networks like QVC, in infomercials, online, and in bricks-and-mortar retailers.
For example, on Shark Tank, Cactus Jack was able to partner with investors Barbara Corcoran and Kevin Harrington to bring the Body Jac – an exercise machine he invented – to the masses.
He's been featured in People Magazine, the Wall Street Journal, USA Today, and many more too!
Watch the fun 2 min video Shark Tank Update to see if Cactus Jack pulled off his "lose 30 pounds" promise on the episode!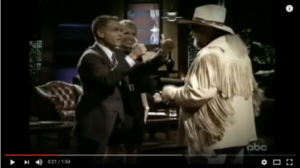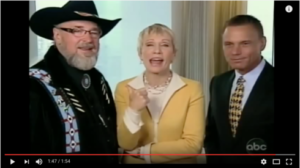 3 Lessons I've Learned from Cactus Jack
What I've learned from this man cannot be summed up completely in one email newsletter.
But, I wanted to boil down a few golden nuggets for you!
#1: The Power of Think & Grow Rich
Cactus Jack and I both are fans and pupils of this seminal work by Napoleon Hill. The docudrama on this book is coming out in a few months and I'm honored to be the youngest cast member featured in it!
Stay tuned for more on that!
But, if you haven't read it yet. Do it now.
#2: The Power of Your Network
Through my relationship with Cactus Jack, I have made new connections with business partners, mega influencers, and up-and-coming superstar entrepreneurs both directly through my connection with him and indirectly by following his sage advice.
No man (or woman) is an island.
No one is truly "self-made."
We must grow and expand the size and quality of our networks if we truly want to succeed.
#3: The Power of an ENTERTAINING Brand
Being dull and mainstream is the recipe for utter and epic failure.
More and more competition in the marketplace means that we have to stand out and be uniquely ourselves more so than ever.
People want to be entertained. So let that big personality shine!
– Put on a show.
– Grab attention.
– Use props.
– Use sound effects.
– Be memorable.
Cactus Jack is living proof that quirky, fun, and bold personalities win in the branding (and sales!) game. He encouraged me to be more vocal, visible, and vibrant. It's how to go "from thousands to millions" he says…and, I know he's right.
Follow Jack's lead like I am to building your brand, your tribe, your influence…and, of course, your business.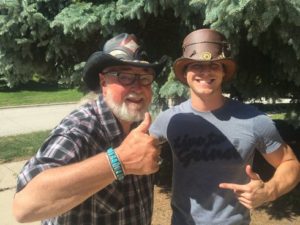 Your B.R.A.N.D. Is Everything!
As you can see from Cactus Jack, building an attention-grabbing brand and powerful network is SO IMPORTANT.
Want a chance to do both of those in one weekend?
Join us!
December 8-10th in Los Angeles
I'm launching the first-annual Live to Grind Event …nay, EXPERIENCE! 
It's all about accelerating your brand, influence, and network.
This event will be unlike others you have attended. It will be hands-on, interactive, amazing for high-level network connections, and you will walk away with tangible brand-building assets.
This is EXTREMELY limited, but the Super Early Bird pricing is crazy reasonable through 8/31, so don't delay if you are truly ready to up-level your brand and enter 2018 with momentum like never before!
Learn more here: LivetoGrind.com/event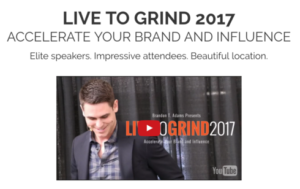 You're Too Cool for Skool (And I Dig It!)
Thanks for reading the Friday Funday. I truly hope you get value from this weekly digest of some big highlights from my "Live to Grind" world! 🙂
My goal is to impact 1 BILLION lives in a positive way by 2019 and to help 100 entrepreneurs hit their 6 or 7 figure goals this year alone.
I can't do that by staying quiet…
I have to share, educate, inspire, and assist.
Please let me know what you find valuable so I can do more of it.
Happy Friday!
BTA
PS: Hope to see you at the Live to Grind Event in L.A. this Dec 8-10!
WANT EVEN MORE?