Last week was one of the best of my life… no exaggeration!…
What was the best part? Had to be the premiere of Ambitious Adventures.
We did it!
Thank you for your support.
I wish everyone could have been there in person…
It played on the big screen (my head looked huge! lol) in a theatre in Winter Park (near Orlando) and we had a red carpet set up for photos.
I felt like a movie star!
Crazy to think that I didn't even know my co-host Greg Rollett one year ago.
And now we've interviewed entrepreneurs big and small all over the U.S. for TV.
Which goes to show…
Never give up! It's amazing what can change in a short period of time with:
1. vision
2. action
3. collaboration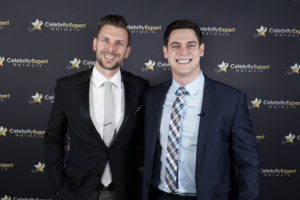 Speaking of which…
…to promote the premiere, Greg and I talked a few days before and said, "We should get on a TV news station!"
Admittedly, I don't know anyone except for my long-time girlfriend Samantha, Greg, and the amazing crew of Ambitious Adventures …so I don't have any "ins" in the area.
[I just moved to Florida from Iowa a couple months back].
But I used to cold call and cold email to get on TV around the country when I was promoting crowdfunding campaigns, so I decided to see if I still got it!?!
haha
Predictions?…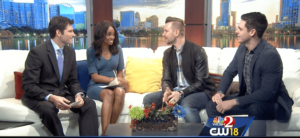 Boom!
One of the stations I reached out to liked my pitch email and they brought us on!
Did every single pitch work?
No.
Was I guaranteed success?
No.
Was it worth the effort?
Definitely, yes!
You can do a lot of credibility-building things in your business,
but there's still nothing like:
…being seen on TV.
…being seen in publications like Huffington Post, Inc, Entrepreneur magazine, etc.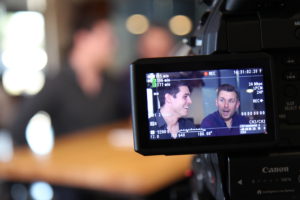 …………
Warning:
What I am about to share with you next is NOT for everyone.
Not for you if:
– You are just starting out.
– You are still struggling in your business.
Get things in order first. That's the top priority. Let me know if you have questions I can help with.
Definitely for you if:
– You have some momentum going and want to turn up the heat.
– You want to increase your exposure, credibility, and authority.
– You want higher paying clients, and less work.
– You want to stop haggling prices and be the go-to in your niche.
…………
Still here?
Okay, so if you are still reading and want to hear more, then you are just like my influencer accelerator masterminders!
I shared with them exactly how I approached the pitch to get on TV including:
– "the story angle" I crafted
– how I figured out what email address to use since I didn't have any contacts at news stations!
– how I wrote the exact email that worked! [you can have a copy]
They raved about it so much that I wanted to take the time to share it with you too, if the timing is right.
Here's what I'll do…
Free 1-Hour Live Training Webinar
I wrote a blog on 5 Things You Must Do To Get On TV, which you can check out…
But I thought for you, I want to go more in depth.
On two conditions:
1. Bring questions
2. Share successes from what you learn
***So, tomorrow only***
February 9th
4pm PST | 7pm EST
Register Your Spot
[Free…for now]
Join me and bring questions!
I'm thinking about turning this into a full course that I charge for in the future, so any questions you ask will help me make it better.
Use what I teach and get on TV?
Even better!
I'll totally shout you out to my audiences all over. I love case studies of successful action takers.
This is what you will see when you come over to grab your seat:
livetogrind.com/mega-media-webinar-reg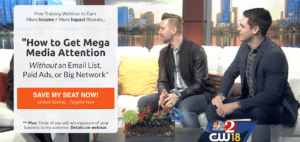 Here are more deets…
Topic: 
"How to Get Mega Media Attention Without an Email List, Paid Ads, or Big Network"
Specific Tactics:
#1: 4 Types Of Stories The Media LOVE [And Will Chase You To Share] On TV, Podcasts, Articles, & More
#2: The ONE Thing That Gets You A "Yes" To Go On T.V. & Big-Name Publications [Takes 5 Minutes]
#3: Hacks to Get Emails Of Producers, Anchors, & Writers [Free And Ethically] Even If Not Public
… can't wait to talk to you on the webinar tomorrow!
See you soon,
BTA
P.S. Reminder: 
Tomorrow only. Live. Bring Q's.
Feb 9th
4pm PST | 7pm EST 
Limited to 50 seats so I can answer your questions.
WANT EVEN MORE?