New Freebie – Grab & Share
Wanted to share with you guys FIRST before anyone else…
My team has been working on a new 'funnel' using Click Funnels. Have you used it for your business?
We love it, but it can be buggy at times!
But nonetheless, we created a new "Lead Magnet" for people to grab in exchange for their email address. You can see it here.
This is a great way to build your email list and start nurturing new leads!
Do you have lead magnets in your business and funnel? Let me know what's working for you.
For this one, it's called:
Top 10 Ways to Grow Your B.R.A.N.D.
• For Free
• With Integrity
• Getting More Sales Too
[1-Page Checklist]
Would love your feedback!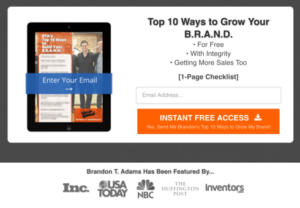 The Sneak Peek
One of our big branding clients is ramping up to launch a crowdfunding campaign. It's going to be EPIC!
I don't want to give away too much, but let's just say that we're working with THE chiropractor to the stars and he's got a chiropractic pillow that will blow your mind…I use it every night!
It's called The Good Roll.
And the inventor? Dr. Kengee!
[I'll introduce him more formally in future Fundays!]
This is why I am in L.A. right now. We are filming a bunch of great content to use for Facebook Ads, the campaign video, valuable teachings for free content (like lead magnets!), and more.
It's just a quick trip and the team still has a lot to do before the launch…but I wanted to give you a sneak peek head's up!
Give their Facebook page a like if you have a minute — brand new!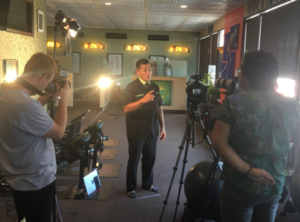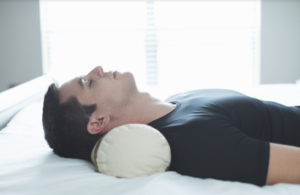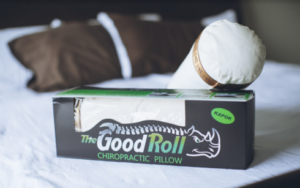 Live to Grind EVENT! 2017
Speaking of L.A….
Our event is just 90 days away! Tickets are going fast (especially the VIP ones).
Who?
Experienced entrepreneurs who want to network with the best and learn tangible ways to improve their B.R.A.N.D. from expert speakers and colleagues.
What?
The first annual Live to Grind Event: ACCELERATE YOUR BRAND AND INFLUENCE
More info and tickets: LivetoGrind.com/event
*Early Bird pricing through 10/15 or until sold out
When?
Thursday, Friday, Saturday: December 7, 8, and 9th
Where?
We wanted someplace nice, centrally located, beautiful, and that had the ability to create the right atmosphere for ONLY 150 attendees (we are against those mega events that pack in so many people it's hard to build intimate, authentic connections with the speakers and other attendees)…
The Westin Bonaventure Hotel & Suites
404 South Figueroa Street
Los Angeles, CA 90071
We are so excited! Here are few pics of the location…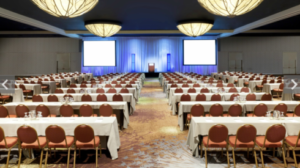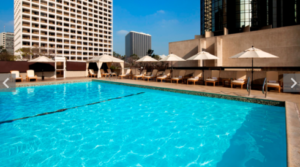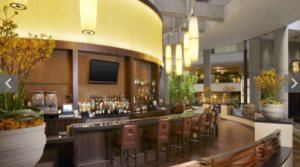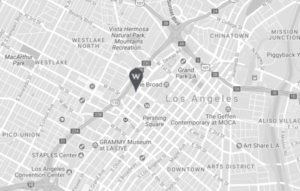 Grab your ticket asap! LivetoGrind.com/event
Early Bird pricing through 10/15 or until sold out at that rate…
• Savings of 44% off door price for Brand Building Ticket
• Savings of 38% off door price for Elite VIP Ticket
This will be THE event of the year! And a great way to make sure your 2018 is the best year everrrrr!
Mastermind Mania
Next year, starting in January, we are going to launch our second Elite Brand Mastermind (12 month program with at least 3 in-person retreats)!
One of them will for sure be in Iowa (in my family's cabin) — due to popular demand!
—
But, if you don't want to wait until 2018 to get 1-on-1 time with me and power group collaboration, check out our 30 day Accelerator.
The next one begins September 18th! Only 10 spots total – act fast!
Learn More Here: LivetoGrind.com/influencer
Ahhhh, yaaaaa!!!
Thanks for reading the Friday Funday. I truly hope you get value from this weekly digest of some big highlights from my "Live to Grind" world! 🙂
My goal is to impact 1 BILLION lives in a positive way by 2019 and to help 100 entrepreneurs hit their 6 or 7 figure goals this year alone.
I can't do that by staying quiet…
I have to share, educate, inspire, and assist.
Please let me know what you find valuable so I can do more of it.
Happy Friday! Gotta run — lots of mastermind activities to jump into!
BTA
PS: Here are all the links I mentioned in one spot!
WANT EVEN MORE?