One More Person Needed
This coming Tuesday, the 26th we'll be kicking off our FINAL Accelerator of the year. I wasn't going to do another but because of popular demand, I decided to run one more.
And after interviewing past participants in the Bad Ass Entrepreneur series on the podcast…
• Episode 254: From Modeling to Talent Management and Brand Consulting with Roxy Caballero
• Episode 257: The Real Estate Rockstar with Andrea Bergin
• Episode 260: Beyond Digital Marketing with Bernard Benjie Paraiso
• Episode 263: Taking That Leap into Entrepreneurship with Nicole Zeien-Cox
• Episode 266: Start Saying Yes to Yourself with Brian K. Wright
• Episode 269: Taking her Business to the Next Level with Leah Mandal
• Episode 272: The Art of Networking in Hollywood with Andria Schultz
• Episode 275: From College to Entrepreneur with Dan Tieman
• Episode 278: Consistency and Success with Ryan Raymer
• Episode 281: Living Life Passionately with Cherie Aimée
• Episode 283: …with Laura Petersen…coming next Friday!
…I felt like it was my DUTY to help one more small group of people this year. And maybe some would prove ready of the Ultimate Mastermind next year too. But that's another topic!
So, I'm looking for just one more person to join this group. 
More info + application here: LivetoGrind.com/influencer
Have what it takes?
Want to get more done in the next 30 days than you have in the past 9 months?
Seriously.
Want to be the next "bad ass" feature on the podcast?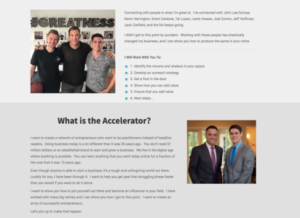 Who is David France?
Have you met David France?
If not, get your butt to the Live to Grind event in L.A. this December 7-9. He'll be speaking. I'm so excited!
David is one of those people who see the world a little bit differently and THAT makes ALL the difference.
He asks questions and tells stories in a way to captivate — a single person or the entire room.
He's a master in building connections and creating opportunities most people would never be able to pull off.
Here are a few of his highlights…
• Top 100 Most Influential Person of Color in Boston and Top 40 Urban Innovator Under 40 in the United States
• International musical performer and innovative educator
• Founder and Executive Director of Revolution of Hope, an arts for social change youth orchestra in Boston
• Featured in Time Magazine, NBC Nightly News, BBC Radio, and has recently spoken at TEDx Wellesley, SXSW in Las Vegas, Harvard, and MIT
• Founder of Ziryab Ventures a think tank for young entrepreneurs
• Producer on the TV show Ambitious Adventures
You will also see below that he was featured on this week's interview podcast!
It's a must listen (you can even watch it behind-the-scenes on the shownotes!) #PoolTableConfessions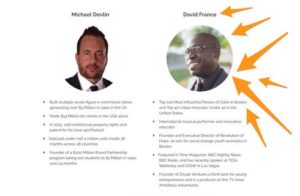 Acceleration is the key.
Thanks for reading the Friday Funday. I truly hope you get value from this weekly digest of some big highlights from my "Live to Grind" world! 🙂
My goal is to impact 1 BILLION lives in a positive way by 2019 and to help 100 entrepreneurs hit their 6 or 7 figure goals this year alone.
I can't do that by staying quiet…
I have to share, educate, inspire, and assist.
Please let me know what you find valuable so I can do more of it.
Happy Friday! Hope to see you in the Accelerator!
BTA
PS: Here are all the links I mentioned in one spot!
• Influencer Accelerator: 30-Day intensive group program that starts Sept. 26th!
• Live to Grind Event: L.A. this Dec 7-9!
• Elite Brand Mastermind: 12-months, 3 in-person retreats, starts in January)
WANT EVEN MORE?