A week from tomorrow…
We're just 8 days away from the PREMIERE of the Think and Grow Rich: The Legacy movie in L.A.
Ever heard of…? 
Lewis Howes, Rob Dyrdek, Barbara Corcoran, Grant Cardone, Bob Proctor, Sharon Lechter, Tim Storey, John Lee Dumas, Warren Moon, Joel Brown, Jim Stovall, Darren Hardy, Greg Reid…
Come rub elbows with the cast, me, and my team! You can get tickets here: TAGRmovie.com [if they aren't sold out yet]
So pumped!
Also in L.A. (in December)…
Also in L.A. will be our end of the year finale event for entrepreneurs ready to kick 2018 in the butt.
• amazing speakers
• hands on activities
• incredible networking
• in the heart of L.A.

The Live to Grind Experience is happening Dec 7-9th.
You can get tickets here: http://livetogrind.com/event
*Early Bird through October 15th!!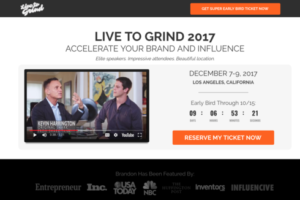 Where in the world am I right now!?
Hello from Iowa! Sam and I are just passing through on our way out West!
Such ping pongs! We are bouncing all around the country from now through the end of 2018 (when we'll be filming our Success in the City show!).
But we love traveling and connecting with others everywhere we go!
Should we visit YOUR city?
Here's a pic below that we snapped showing the sign of my hometown…Garnavillo! I thought that'd be fun to share with you.
It's got a population of just around 750. Where did you grow up?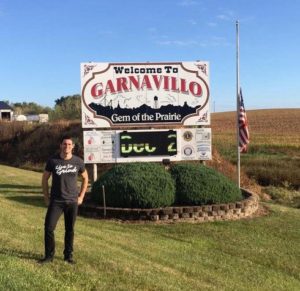 Happy October!
Thanks for reading the Friday Funday. I truly hope you get value from this weekly digest of some big highlights from my "Live to Grind" world! 🙂
My goal is to impact 1 BILLION lives in a positive way by 2019 and to help 100 entrepreneurs hit their 6 or 7 figure goals this year alone.
I can't do that by staying quiet…
I have to share, educate, inspire, and assist.
Please let me know what you find valuable so I can do more of it.
Happy Friday! Gotta run — lots of mastermind activities to jump into!
BTA
PS: Here are all the links I mentioned in one spot!
•  Think & Grow Rich Movie Premiere in L.A. on Oct. 14th!
•  Live to Grind Event: Happening in L.A. this Dec 7-9!
•  Elite Brand Mastermind: 12-months, 3 in-person retreats, starts in January
WANT EVEN MORE?