What is Facebook Watch?
Have you heard about Facebook Watch!?
It's a game-changer.
It's Facebook's latest push into video and went live in August of this year. Very recently still!
The Watch tab sits in some premium Facebook real estate, just under the News Feed and Messenger buttons on the main desktop navigation menu.
[Side Note: On mobile, it's on the bottom of the navigation bar where you can launch it with one click.]

This new video portal curates Facebook-exclusive video content from influencers, celebrities, partners, and some Facebook-funded projects.
Right now, it's ultra-exclusive and nearly impossible to break onto!
But…
I have exciting news for you!
AMBITIOUS ADVENTURES made the cut!
Not only did Greg Rollett and I get the show up on Entrepreneur.com, as you saw last week…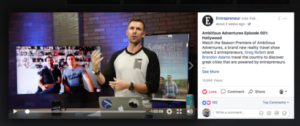 …but now it's live on Facebook Watch too!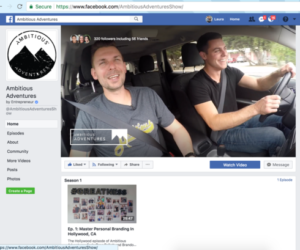 Incredible. We are so honored and excited that the show is really taking off and getting picked up by the new leaders of content distribution and prime-time programming!
Have you checked out the debut episode filmed in Hollywood?
Visit the Ambitious Adventures channel on Facebook Watch now to watch!
Want to learn how we did it?
Greg Rollett and I are planning to share how we got our brand new reality T.V. show…
• nominated for an Emmy!
• on Entrepreneur.com!
• on Facebook Watch!
…and more!
When?
At the Live to Grind Event this December 7th-9th in Los Angeles, CA!
Get your tickets asap! This is going to be an incredible EXPERIENCE! And we'll be filming an episode of the Live to Grind show, which is airing on Apple TV and more, to be announced!
Not only is this a great learning and networking experience, it's a chance for more exposure for your brand and business.
Who?
YOU!
Experienced entrepreneurs who want to network with the best and learn tangible ways to improve their B.R.A.N.D. from expert speakers and colleagues.
What?
The first annual Live to Grind Event: ACCELERATE YOUR BRAND AND INFLUENCE
More info and tickets: LivetoGrind.com/event
When?
Thursday, Friday, Saturday: December 7, 8, and 9th
Where?
We wanted someplace nice, centrally located, beautiful, and that had the ability to create the right atmosphere for ONLY 150 attendees (we are against those mega-events that pack in so many people it's hard to build intimate, authentic connections with the speakers and other attendees)…
The Westin Bonaventure Hotel & Suites. We are so excited! Here are few pics of the location…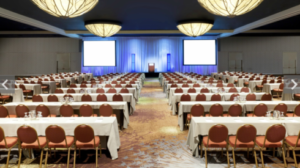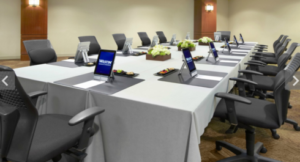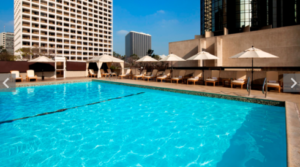 Grab your ticket asap! LivetoGrind.com/event
This will be THE event of the year! And a great way to make sure your 2018 is the best year everrrrr!
Elite Mastermind Mania (all of 2018)
Next year, starting in January, we are going to launch our second Elite Brand Mastermind (12 month program with at least 3 in-person retreats)!
One of them will for sure be in Iowa (in my family's cabin) — due to popular demand!
Looking forward to seeing you next month!
Hope to see you at the Live to Grind event in LA!
—
I can't do that by staying quiet…
I have to share, educate, inspire, and assist.
Please let me know what you find valuable so I can do more of it.
Happy Friday! Gotta run — lots of mastermind activities to jump into!
BTA
PS: Here are all the links I mentioned in one spot!
WANT EVEN MORE?