How a Video Got 2.5 Million Views on YouTube…
The past week — well, month really! — has been an all-out grind, full of ups, downs, and even some exciting wins my team and I didn't see coming.
My girlfriend and I just got back to Orlando after driving back from Iowa. We stopped along the way only for sleep and to work out. We are committed to that fit life! Who's with me!?
After passing out from exhaustion back at home, I started catching up on messages and noticed a flash flood of ones saying, "Dude, I saw you on Jake Paul's video!"
Jake Paul did his first keynote speech ever at Young Entrepreneur Convention (YEC) last week and knocked it out of the park. But what's even more entertaining, is the resulting vlog he made of his trip out.
Check it out here for a cameo from me, Greg Rollett (my co-host on Ambitious Adventures), Caleb Maddix, and more.
Haven't heard of Jake Paul?
He has the fastest growing YouTube channel right now with about 4.7 MILLION subscribers. Practically every video he makes gets well over a million views although some have claimed being able to boost youtube video views is the main reason for his increased success.
Whaaaaaa?
This video has been up only 4 days and has 2.5 million views. He's doin' sumpthin' right! It's definitely enough to question whether he's been buying YouTube views (yep, that's a legitimate thing, as detailed Here).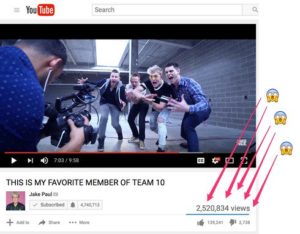 What's the secret sauce?
The fascinating thing about this video and how it went viral is…
Jake didn't do anything to promo it.
No email blast. No flurry of tweets. No Facebook Lives asking people to watch. This is just what happens when you build your brand, share great and consistent content your audience wants to see, and become an industry influencer.
This is why I harp on people to get visible, make lots of video, and build your personal brand.
Obviously, becoming visible on a competitive site like YouTube is definitely not easy, but if you keep motivated and strategize, you'll find success. Plus, there's always the option to buy YouTube subscribers from https://buyoutubeviews.com/buy-youtube-subscribers to boost your channel when first starting up or when stagnating.
New clients will choose you over others because they see you, they like you, they are entertained and educated by you.
Gone are the days that you put an ad in the Yellow Pages (raise your hand if you even know what that is) and wait for the phone to ring.
Today, "social media" is the #1 way we communicate, engage, and seek help. Build your brand for short-term and long-term gains.
Do you agree?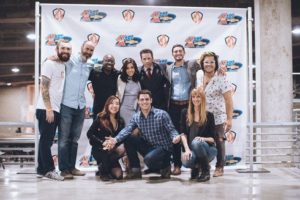 You are amazing
Thanks for reading this Friday Funday. I truly hope you get value from this new weekly digest of some big highlights from my "Live to Grind" world! 🙂
My goal is to impact 1 BILLION lives in a positive way by 2019 and to help 100 entrepreneurs hit their 6 or 7 figure goals this year alone.
I can't do that by staying quiet…
I have to share, educate, inspire, and assist.
Please let me know what you find valuable so I can do more of it.
Happy Friday!
BTA
WANT EVEN MORE?