Apple T.V. Premiere!
The Live to Grind show is officially live on Apple T.V.! We've also been debuting it on Facebook to let everyone see it who isn't using Apple T.V. yet.
And this past week we shared…
Episode 1!
Here it is freshly uploaded to YouTube to make it easy to view. It features the incredible Matt and Caleb Maddix!
CALEB MADDIX (at just 15 years old) is the World's Leading Expert for Kids Who Want to Become Successful, is the author of nine books, was voted one of the "Top 20 Most Motivational People on the Planet," was named "Top 30 Under 30," and has created videos with tens of millions of views.
MATT MADDIX has been an international keynote speaker for over 15 years, hosted over 103 live events with over 32,000 registered attendants, and authored six books. He is passionate about living a full life and using his influence to help others do the same, especially families and people interested in entrepreneurship.
Check out this hilarious and helpful first episode!
There may even be pool jumping, dancing, fire spinning, and Mario Kart racing involved!!!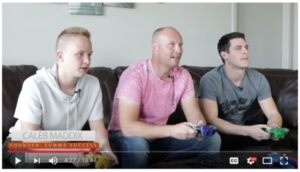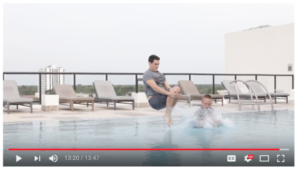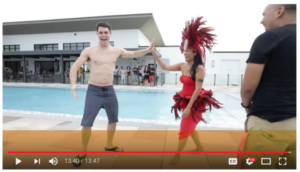 Get on an Episode?
To be featured on an episode is rare. It's only for elite clients, mastermind participants, and influencers who really catch my attention.
But….!
We will be filming on location at the Live to Grind Event happening soon! December 7-9th in downtown Los Angeles. LivetoGrind.com/event
BLACK FRIDAY SPECIAL ON TICKETS TODAY ONLY!!!
Use code "blackfriday" at checkout.
Cameras will be all around capturing the event, speakers, and participants!
This is an optimal opp to get on a future episode that WILL also feature greats like Kevin Harrington of Shark Tank, Emmy Award Winning Producer Greg Rollett, and more!
You'll get to say you were on a TV show with people like this!!! Once in a lifetime opp!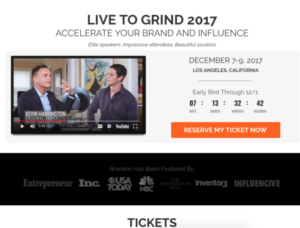 Can't wait to see you in L.A.!!!
Even More Info on the Event of the YEAR!
Greg Rollett and I are also planning to share how we got Ambitious Adventures…
• nominated for an Emmy!
• on Entrepreneur.com!
• on Facebook Watch!
…and more!
When?
At the Live to Grind Event this December 7th-9th in Los Angeles, CA!
Get your tickets asap! This is going to be an incredible EXPERIENCE! And we'll be filming an episode of the Live to Grind show, which is airing on Apple TV and more, to be announced!
Not only is this a great learning and networking experience, it's a chance for more exposure for your brand and business.
Who?
YOU!
Experienced entrepreneurs who want to network with the best and learn tangible ways to improve their B.R.A.N.D. from expert speakers and colleagues.
What?
The first annual Live to Grind Event: ACCELERATE YOUR BRAND AND INFLUENCE
More info and tickets: LivetoGrind.com/event
BLACK FRIDAY SPECIAL ON TICKETS TODAY ONLY!!!
Use code "blackfriday" at checkout.
When?
Thursday, Friday, Saturday: December 7, 8, and 9th
Where?
We wanted someplace nice, centrally located, beautiful, and that had the ability to create the right atmosphere for ONLY 150 attendees (we are against those mega-events that pack in so many people it's hard to build intimate, authentic connections with the speakers and other attendees)…
The Westin Bonaventure Hotel & Suites. We are so excited! Here are few pics of the location…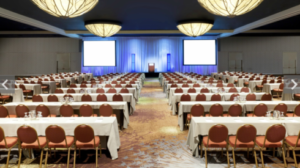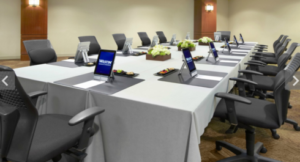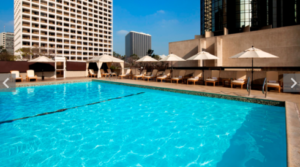 Grab your ticket asap! LivetoGrind.com/event
This will be THE event of the year! And a great way to make sure your 2018 is the best year everrrrr!
BLACK FRIDAY SPECIAL ON TICKETS TODAY ONLY!!!
Use code "blackfriday" at checkout.
Looking forward to seeing you SOON in L.A.!
Hope to see you at the Live to Grind event in LA!
—
And thanks for reading the Friday Funday. I truly hope you get value from this weekly digest of some big highlights from my "Live to Grind" world! 🙂
My goal is to impact 1 BILLION lives in a positive way by 2019 and to help 100 entrepreneurs hit their 6 or 7 figure goals this year alone.
I can't do that by staying quiet…
I have to share, educate, inspire, and assist.
Please let me know what you find valuable so I can do more of it.
Happy Friday and Happy Thanksgiving yesterday. So much to be thankful for. I appreciate you.
BTA
PS: Remember to use the coupon code BLACKFRIDAY today only! Live to Grind Event:  L.A. 12/7 – 12/9
WANT EVEN MORE?