So, what do you think?…Is Snapchat dead?
First off, are you even on Snapchat? According to my source here, Snapchat only ranks at the 6th most used social media site.
I'd be interested to hear your thoughts on this social media platform! Hit reply and let me know…or better yet, snap me @btadams18 if you're on there and I'll snap you back!
Now, if you've been keeping up with social platforms lately, you know that Instagram essentially stole all of Snapchat's features recently with their Instagram Stories as the biggest thing. Along with this, you can also download the stories anonymously through a site like storiesig. It really is killing Snapchat.
As a result, I've seen a BIG decrease in my snap views [sad face] as many people decided, 'why do a snap when I can just share my story on Instagram and get more engagement anyhow?
I hear you.
But I'm deciding not to completely jump off of Snapchat…
Why?
You NEVER KNOW what they could do to retaliate. Maybe they debut a cool new feature that brings everyone back. While folks who let their account go dormant lose traction, I'm still building.
And, it's still a platform used by a crazy high number of people despite Insta's chess move.Just because it
Just because it feeeeeels like everyone left, did they really?
I found this article from Business Insider (released in February of this year, 2017)…and as you can see in the photo below, there are over 158 million people using Snapchat every day with about 2.8 BILLION snaps created each day.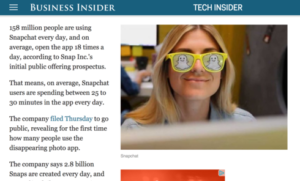 Wowzers!
Maybe Snapchat's not so easy to kill it off after all.
This chart also grabbed my eye!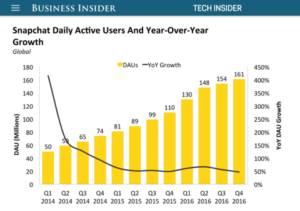 But okay…what do YOU think?
I'd love to hear your thoughts and experiences.
– Have you seen a decrease in your audience and engagement?
– Are you worried for the platform?
– Are you still using it despite Insta stories?
Email me back! I'm just one person and need your feedback. 🙂
You rock my socks off!
Thanks for reading this Friday Funday. I truly hope you get value from this new weekly digest of some big highlights from my "Live to Grind" world! 🙂
My goal is to impact 1 BILLION lives in a positive way by 2019 and to help 100 entrepreneurs hit their 6 or 7 figure goals this year alone.
I can't do that by staying quiet…
I have to share, educate, inspire, and assist.
Please let me know what you find valuable so I can do more of it.
Happy Friday (and Cinco de Mayo)!
BTA
WANT EVEN MORE?