It's Finally Here…
Over the past few weeks, I've been teasing about Accelerant Magazine!
Sorry for makin' you wait! 🙂
My team had it prepped and printed for YEC a few weeks ago in April (that's Young Entrepreneur Convention in wild 'n out Des Moines, Iowa). [
Check out this video from our keynote speaker Jake Paul for some behind the scenes… it now has over 2.7 MILLION views already! Wowzers.]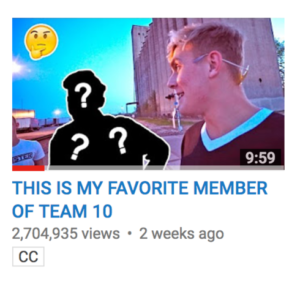 Okay, but back to the magazine…
We wanted to make a few tiny edits before getting it up online and sharing with the world!
Because you are a part of the Friday Funday family, you get the first view! Drum roll
pleeeeeasssseeee
…..
Inside you will find:
– My dream to make a magazine and how this came to be.
– 3 Overlooked Ways a Podcast Grows Your Wallet & Business from Laura Petersen
– Better on a Budget: Bootstrapping Your Startup from Mike Silvestri
– The Secret to Getting the Attention of 500 Million People (plus a free video class) from Greg Rollett
– 5 Things Every Small Business Needs to Be (Like it or Not!) from Andrew Zalasky
– A Closer Look at Christina Kalsan and the Product Gurus
– Recent Graduates of the Influencer Accelerator Elite mastermind!
– Getting the Most Out of a Life On the Go – from Jake Trerotrola
– "Heavy Hitters" – Top 10 Entrepreneurs Your Need to Know! [Are you one of them?]
– Success At Any Age featuring entrepreneurs ages 15 to 50+ (shout out Caleb Maddix and Kevin Harrington!)
– Amanda Boleyn's path that's inspiring women everywhere.
– …and so much more!…
Can I ask you a favor?
Would you please take a few minutes right now to…
1. Click here to check out the magazine online (no email optin – free)
2. Email me back and tell me what you love about it and what we can improve!
BONUS: Share with a friend. 🙂
I like your style
Thanks for reading the Friday Funday. I truly hope you get value from this new weekly digest of some big highlights from my "Live to Grind" world! 🙂
My goal is to impact 1 BILLION lives in a positive way by 2019 and to help 100 entrepreneurs hit their 6 or 7 figure goals this year alone.
I can't do that by staying quiet…
I have to share, educate, inspire, and assist.
Please let me know what you find valuable so I can do more of it.
Happy Friday!
BTA
WANT EVEN MORE?