My accelerator students PUSHED me!
We are just wrapping up a fantastic Elite accelerator. It's the last of its kind for a while because this summer has some huge things up its sleeve…
Inside the group, one participant said he always wanted to create a course, so I told him, get it done in the NEXT 48 HOURS!
Shout out to Ryan Raymer!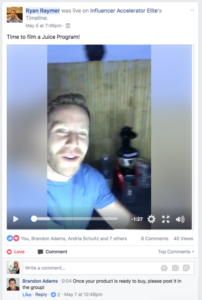 And Ryan cleared his calendar to get focused…and recorded ALL the videos for his course on juicing.
I was impressed that he took on my challenge and delivered great content in a short amount of time.
Oh, the power of short deadlines and good accountability partners!
But the story doesn't end there.
I'm competitive. Are you competitive?
I think all great entrepreneurs have an element of competitiveness! 😉 But I saw what Ryan achieved in a short time and decided to follow my own advice!
People have been asking me a lot lately about a course or program that is more for "how to start a successful business" since I tend to focus on building up brands that already have a business foundation.
There are many entrepreneurs just starting out or maybe working on a side hustle like choosing to become a Scentsy Consultant or a part-time taxi driver just to earn some extra money. As well as this, they're still doing their 9-to-5 too! There are plenty of sites out there designed to advise you on how to create a great side hustle, like Hustle Life, and I want in on that action. Creating a side hustle is always beneficial. People always need extra cash, so it might be worth looking into some of the most popular ways to make money. A couple of people have been using online casinos to try and make some money on the side. That seems to be a good method. People seem to be using this livemobile66 918kiss download and then they start playing casino games. This is a side hustle, so some people could consider that.
I have also created a course. It's LIVE NOW!
Whaaaaaaat? Yep!
I sat down and recorded all the videos in about 4.5 laser focused hours last Sunday.
Then my team jumped in and put all the backend and techie bits together this week, and BAM! It's ready!
Learn more here:
Idea to Revenue in 30 Days
And here below is a screenshot from the inside! You can see all the modules on the left-hand navigation bar: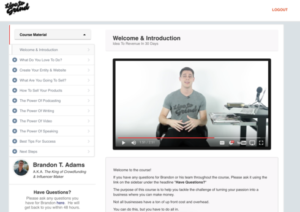 Now, I'm going to push YOU!
Your turn.
What is something you have been meaning to do? Wanting to do?
But haven't.
…Build your course?
…Write a book?
…Make 10 sales calls?
…Get interviewed on 5 podcasts?
…Hire or fire that employee?
Let me be your accountability partner….
In the next 72 hours from reading this, I want you to:
1. Write down that 'thing'
2. Take focused, decisive, and committed action on it
3. Tell me what happened in our Live to Grind Community on Facebook
GO!
Love ya mucho
Thanks for reading the Friday Funday. I truly hope you get value from this new weekly digest of some big highlights from my "Live to Grind" world! 🙂
My goal is to impact 1 BILLION lives in a positive way by 2019 and to help 100 entrepreneurs hit their 6 or 7 figure goals this year alone.
I can't do that by staying quiet…
I have to share, educate, inspire, and assist.
Please let me know what you find valuable so I can do more of it.
Happy Friday!
BTA
PS: Learn more about the Idea to Revenue course here or share with someone who needs it.
WANT EVEN MORE?