Lately, there's been a lot going on all at once in my life. I'll admit, I'm still on cloud nine from everything that happened just a couple of weeks ago.
From getting engaged to attending the premiere of Think and Grow Rich the Legacy, and then receiving an Emmy nomination for our TV show Ambitious Adventures – talk about a WHIRLWIND!
I'm sharing this with you because I want you to know how I felt in the moment. I felt accomplished and like all of my hard work had paid off, which is an amazing feeling.
Moments like these are the ones that drive us to work as hard as we do.
But, we need to enjoy them while they last. Too many people jump from win to win without ever really looking back and appreciating all of them.
Their eyes are focused on the next prize, rather than savoring the moment of their current accomplishments. All of this is part of the journey and part of the grind, so remember to stop and cherish it all.
My recent experiences contributed towards what was probably the most monumental week of my life.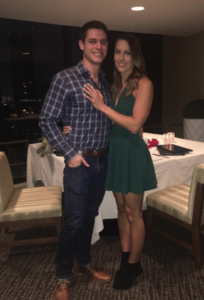 I proposed to Samantha, the girl of my dreams and greatest supporter. I'm so glad I took the time to slow down and appreciate this moment as it was one of the most emotional moments of my life. I had bought the most beatiful diamond ring for women I could find, and it was amazing to see her face when I opened the box. It was even more incredible hearing her say yes and seeing how happy she was. We didn't have much time to celebrate though as the following day we were off to the premiere of Think and Grow Rich the Legacy, which was absolutely incredible!
Barbara Corcoran was there on the red carpet, as well as Rob Dyrdek, Lewis Howes, Bob Proctor, and so many other amazing influencers.. heck, even my mentor, "Cactus" Jack Barringer, flew in for the weekend!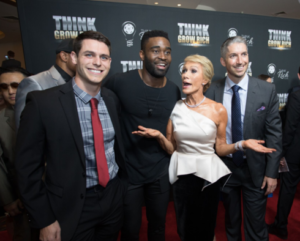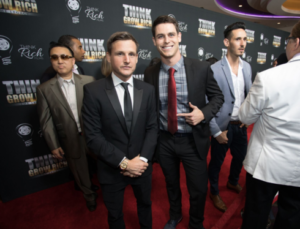 I got to interview all of these people, and it was really cool to see how they've all lived their lives off of Think and Grow Rich.
They spoke about creating their own journey by manipulating reality, working smarter instead of harder, the influential power of the mastermind, and the importance of thinking bigger and welcoming new possibilities.
In that moment, I realized that I'm no different from these people. None of us are.
We are all the same, we all have the same capabilities, but we don't all use them. The difference is that not all of us push ourselves to the max.
I look back on it all, and it's worth the grind and all of the hard work. But, out of everything I've seen and learned, the big takeaway I want you to get from this is that you need to live in the moment. Be thankful for what you have right now rather than getting so hung up about what you might have down the road.
Life is good. Enjoy it! Don't be the person that has a win and then goes right to the next one without acknowledging and appreciating the journey it took to get there. Some people get into a routine and only focus on chasing a high from the next big thing.
Be thankful for what you have and where you are TODAY.
We work hard to master our craft and get better, but also to have cool experiences and share them with the world. Life is all about the experiences and doing good for others.
Treasure your friends, family, and experiences. Don't get so caught up in working for tomorrow that you forget to live for today because tomorrow is never promised!
BTA